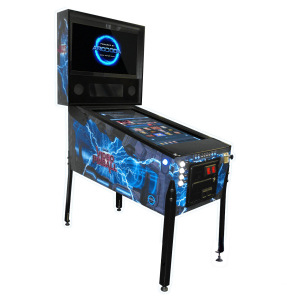 The International Association of Amusement Parks and Attractions (IAAPA) Expo 2016 marks the worldwide unveiling of Arcooda's highly innovative arcade and pinball machines. During the 15th – 18th November international audiences will be presented with game-changing machines such as Xtreme Game Wizard, Arcooda Video Pinball, Touch Wizard, Mystic Dragon and more!
Arcooda's booth 6106 will feature a line-up of never-before-seen machines suitable for both home and commercial use. These state-of-the-art machines will be available play and Arcooda plans to release a few surprises during the tradeshow that IAAPA attendees do not want to miss.
The new Arcooda machines planned for booth 6106 include the Xtreme Game Wizard which has been well received since its release in late 2015 as well as Arcooda Video Pinball which was launched at the 2016 Australasian Gaming Expo. IAAPA will witness the release of;  Touch Wizard; the most versatile desktop machine in the market; Game Wizard for Android, a full sized 2 player arcade machine compatible with 1000s of games, Mystic Dragon; the latest title in the fish hunting series designed to played on Arcooda's 8 player fish machine and new machines yet-to-be announced.
"We are very excited to release our new models at IAAPA," Arcooda CEO Steve Josifovski said.
"We have been working for the past three years with a number of leading software and hardware companies from Japan, Italy, Australia and USA to produce what we believe are the most advanced arcade machines for the home market.
Our philosophy is that the owner buys the machine once and continues adding software titles for unlimited gaming options. Game players have a variety of options in playing our machines, whether it is our video pinball machine or our joystick and touchscreen arcade machines. They can use touch, joystick, hand controllers as well as different gaming consoles – all on a plug in and play system."
Save
Save
Save
If you are attending IAAPA Attractions Expo at Orlando during the 15-18th November, Arcooda welcomes all attendees to visit booth #6106 for live demonstration and play.