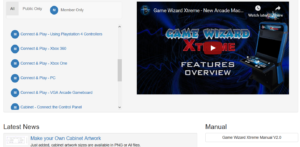 Arcooda are happy to announce a new website has been made available to customers to address any questions or trouble shooting concerns surrounding their machines. Highway Gaming will be used as a tool to help customers with the setting up, updating, and game play of their individual cabinets.
To register your machine, please contact support@arcooda.com together with a photo of your serial number plate (if you purchased an arcade machine) or your invoice number (if you purchased software).
People who have not made a purchase through Arcooda before will still be able to view the site, however, they will only be able to see very generic, basic information about the machines without having a login code.
To access Highway Gaming, please click here.