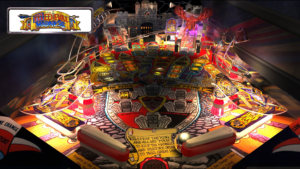 To celebrate the launch of Arcooda Pinball Arcade, Arcooda today announced it will offer discounts to existing buyers of The Pinball Arcade.
Customers who have purchased The Pinball Arcade for any platform – PC/Steam, Xbox, PlayStation, Apple, Android Wii and Ouya – will receive a dollar-for-dollar discount when they purchase the Arcooda Pinball Arcade software on Arcooda's range of arcade and pinball machines.
Arcooda Pinball Arcade is being developed in partnership with FarSight Studios, makers of the #1 video pinball software The Pinball Arcade. Many new features are being implemented including easy touchscreen navigation and game play, advanced playfield angles (including 3D options), real pinball parts support (flipper coils, shaker motors), tournament play, and 3 screen game play.
If you have enjoyed playing many of the famous pinball tables on your home PC and other platforms, and want to experience full-sized, realistic pinball game play then look no further than Arcooda's range of machines. Money already spent on The Pinball Arcade can be used as a discount for game table purchases on the Arcooda Pinball Arcade software. It will be a dollar-for-dollar discount. In many cases, you will receive many of the Arcooda Pinball Arcade game tables for free or at no additional cost.
Pricing on the Arcooda Pinball Arcade software, Arcooda Touch Wizard desktop and Arcooda Video Pinball machines will be announced in January 2017. FarSight customers will have until March 31, 2017 to claim their discount.
Arcooda Pinball Arcade will include more than 70 customised titles including The Addams Family, FunHouse, Terminator 2: Judgement Day, Medieval Madness and Twilight Zone.
Arcooda Video Pinball is a patent pending product in collaboration with a number of leading software/hardware companies from Japan, Italy, Australia and USA.  Arcooda Pinball Arcade will spearhead a variety of different software publishers which will also be available on Arcooda Video Pinball machines. Arcooda is releasing 2 models in 2017, a home version product with at least 100+ licensed game tables, and a coin operated model with many innovative features yet seen on pinball machines. We encourage your feedback and cooperation for our machine. If you have any questions, suggestions or looking to work with us, please email us on sales@arcooda.com or call our office on +61 249 689 313
Be sure to be following our social media and news stories as more announcements regarding features, product launch and pricing coming soon!
Save
Save
Save
Save
Save
Save
Save
Save
Save