Unlimited Gaming Potential with Game Wizard for Android!
Fans of modern and retrogaming rejoice, for the most advanced Android machine on the market, the Game Wizard for Android arcade machine, is coming soon!
This arcade machine is an advanced gaming product from Arcooda, which allows players to play all their Android games in a fully functioning arcade machine using classic Japanese arcade joystick and push button controls!
The entire process is super short and sweet! Simply connect to your Google Playstore on the Game Wizard for Android arcade machine, select your game and play. It is that easy and that simple, which makes this machine highly suitable for home installation, whether it be the man cave below or the kiddies' games room!
That's not all though – the Game Wizard for Android also let's players use their emulator software and enjoy their MAME library, or similar programs, in classic arcade style.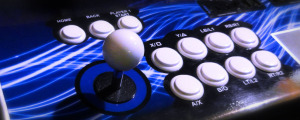 As an added bonus for truly unlimited gaming, the Game Wizard for Android arcade machine is JAMMA compatible, and easily plugs'n plays Xbox 360, Xbox One, PlayStation 3, PlayStation 4 and PC, allowing players to enjoy all their favourite modern games with a retrogaming flare.
Nothing compares to the authentic gaming experience of an arcade machine! Indulge your nostalgia with all your favourite modern Android games, a platform which has frequently been used to revamp many classic arcade titles over the years.
With it's compatibility with the Android operating system, ability to run emulator software such as MAME, ability to run with your PC, and plug'n play compatibility with new gen consoles such as Xbox and PlayStation, this advanced, all-in-one gaming model presents limitless gaming options for players. The Game Wizard for Android arcade machine is a commercial grade, high end machine which is designed to give players top quality gaming right in their own homes.