Arcooda is where competitors come to get their ideas (or copy the entire machine).
You may have noticed we stopped our advertising of product development, including social media and our checkpoint video series. Sadly, we could not stop the overwhelming amount of copiers or partner betrayals.
We plan you show you how 90% of our products have been completely copied (one to one), and what steps we have taken recently to protect future product releases. You may have noticed that many competitor products are starting to look like our products (people were laughing at our designs where we showed USB inputs at the front of our machines, but now its common place).
Whilst we say thanks to follow us, our main concern is for companies who copy our entire machines and misrepresent the products (whether this is selling the machine as Arcooda, or, relabeling the products under your factory/product name).
Let's start with our legends 2 player cabinet. After making the first production for both fish machines and home gaming, the product started being displayed on competitor USA and China websites.
Mystic Dragon
Mystic Dragon was a game Arcooda released into both the gaming, and, the ticket redemption marketplaces. It was sold to our agents in Hong Kong and USA, and never sold to resellers in China. Later, we developed a more advanced Mystic Dragon 2 ticket redemption machine which performed strongly in the FEC stores.
Our game software is being advertising throughout Chinese sellers, but, it's fake.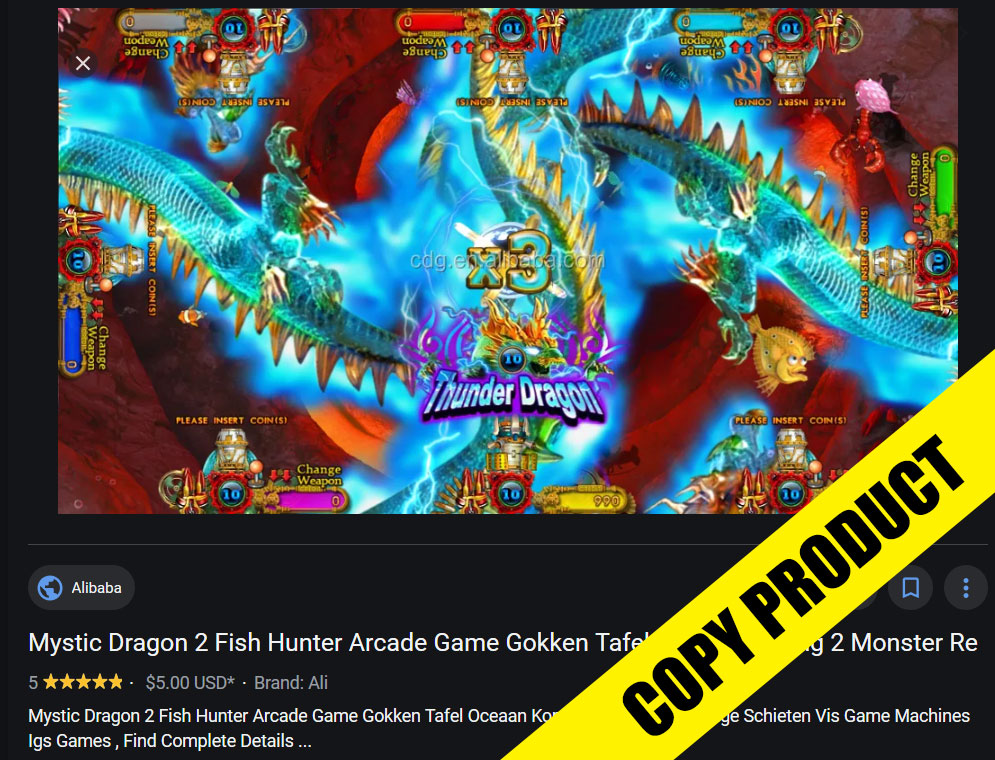 IAAPA 2016
During 2016 we developed our Arcooda Deluxe 8 player fish machine which was capable of playing all Taiwan and Chinese game boards using the one wiring system. It included interchangeable joystick and coin door panels. It was the only fish cabinet in the market to have the ability to turn on its side and wheel through standard doors making the machine incredibly versatile.
We started shipping internationally and showcased our machine during the IAAPA Trade Show in Florida/USA.
Shortly afterwards, we started to find advertising promoting our machines in China/USA by companies who were not our agents. Later, we found that our cabinets had been copied "one for one".
The Arcooda Deluxe fish machine is still heavily advertised throughout China and USA by our copier competitors.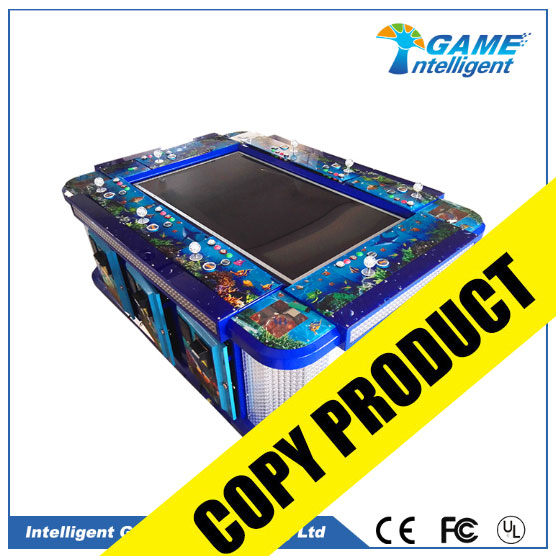 The EMP Anti-Cheater
With the high incomes the fish machines were generating, there started to be problems with theft and cheating the machines. We needed to constantly update our machines and add even more levels of security. One of these security measures included our EMP Anti Cheater Device – an alarm system that stopped electromagnetic pulses and WIFI attacks on our machines.
How does the cheater steal money from the machine? Using an EMP device, they pulse energy into the machine in the hopes of pulsing the coin or bill acceptor. If they are successful, each "click" can generate $1, or, $10, or more. Quickly, the owner can lose money on their machine. On the fish machines, the player will add credits onto the cabinet, play a little, and then cash-out, often walking out with thousands of dollars.
With our EMP Anti Cheater, when a cheater users their EMP, an alarm is immediately sounded and will keep running for up to 10 minutes. On the board, there is also a counter which displays how many times the machine has been attacked.
After making our samples, we sent our product to a test lab for FCC approval. After it was granted, we started selling into the USA market.
Unfortunately our product was copied, including our manual. We found a number of copy products in the marketplace which were not made by us, with some using the exact same logos as ours. Ultimately, we removed the product from the marketplace, however we still see copy products being advertised in the market today.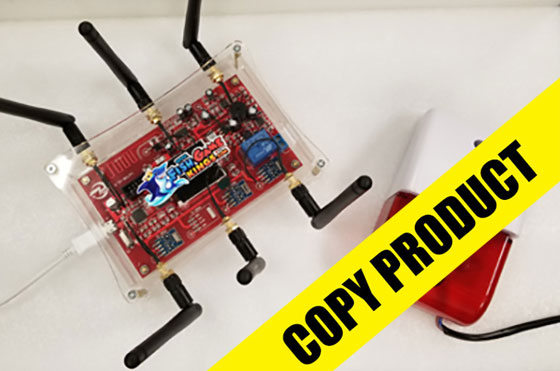 The Metro Fish Cabinet
In our Checkpoint videos, we were excited to release a low cost fish machine called our Metro Fish Machine. Similar to our deluxe machine, it offered our customers the ability to install any fish game board without the need to completely rewire the cabinet each time a new game board was released.
Unfortunately, this machine was copied and released in the marketplace under a variety of different names/brands.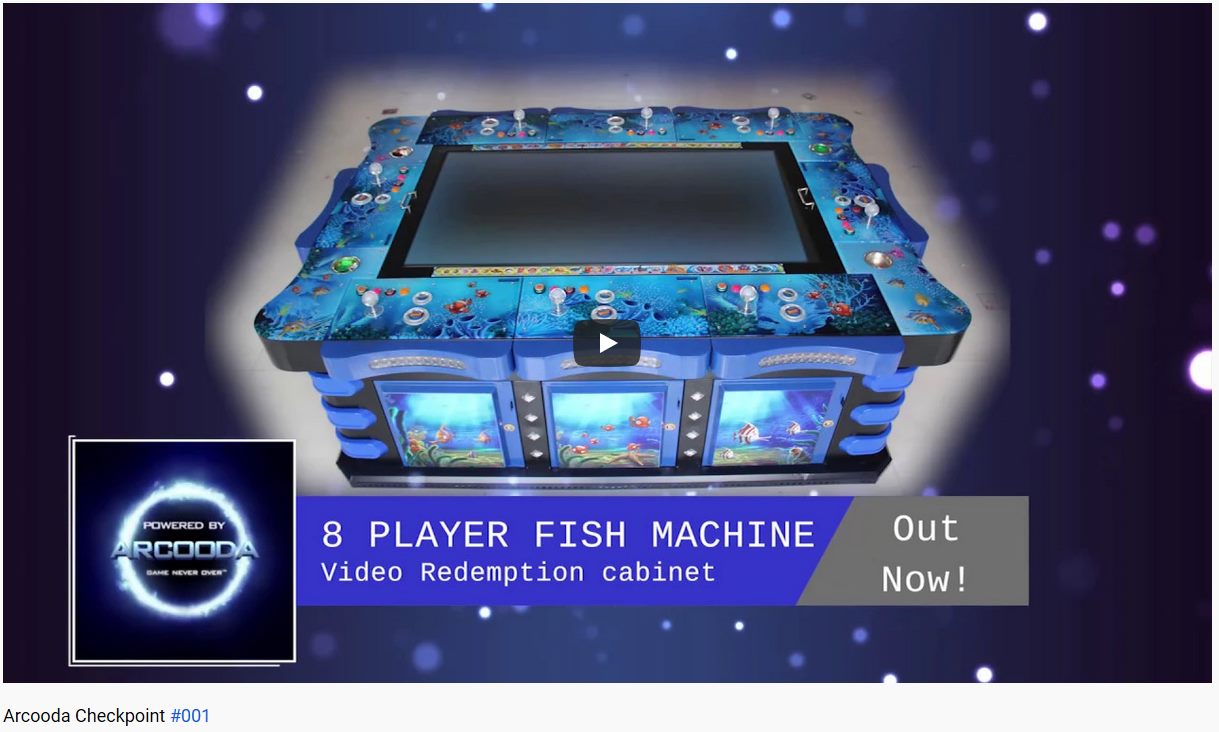 Copiers try to destabilise us with various tactics that include "bait and switch", "passing off" or destroying market prices.
For example, competitors might not be able to copy our cabinet but will advertise the exact same product through a variety of international websites at $995usd, whilst the true sales price is $3,995usd. When a customer views the product, their first impression is "why is it so cheap?", then after chatting with the copier, the copier will inform them that the product is not good and they were clearing the dead stock, but, they can offer them a better product, etc…
In this image, it's a complete blend of our METRO Cabinet being advertised with Ocean King game software, and using our product images from our Arcooda Deluxe fish cabinet product.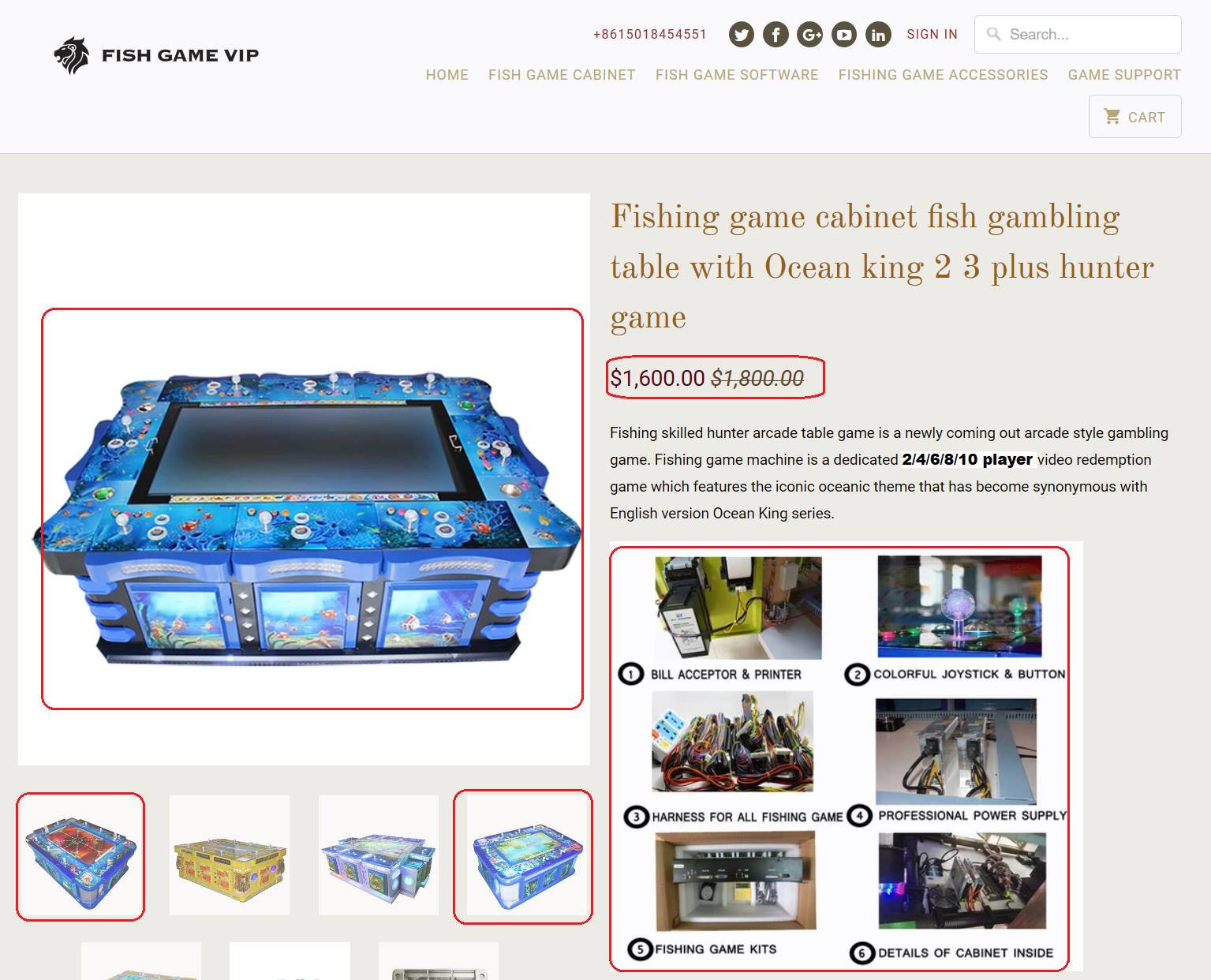 "Customers"
Copiers also contact us under the disguise of a "customer". It's been crazy….whether its our joystick, fish or pinball machines, "customers" have talked with us about why we use certain components, delivery details, technical specifications, etc and copy our emails and resend to their clients.
In this example, we showed a "customer" a development photo of our Deluxe fish cabinet. Later, we found this image on our competitor's website. With regards to the fish series, our catch phrases of "honeymoon phase", "income averaging" etc… were all being quoted by our competitors…. even though they did not understand the meanings.