Custom backglass for Arcooda Pinball Arcade is under development!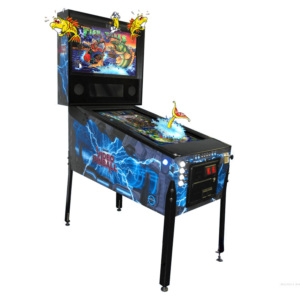 Arcooda Pinball Arcade is our flagship software in partnership with FarSight Studios. We have been working closely with FarSight Studios to create the most authentic pinball experience fully integrated with our Arcooda Video Pinball. Arcooda Pinball Arcade will comprise of many innovative and never-before-seen features such as as easy touchscreen navigation & game play, advanced playfield angles (including 3D options), real pinball parts support, tournament play, 3 screen game play and more.
Our latest feature to be announced for Arcooda Pinball Arcade is custom backglass. This is now well underway and will support lighting features, animation and game interaction. The custom backglass will be a feature for all tables (over 70 titles) included in Arcooda Pinball Arcade including Fish Tales, Medieval Madness, The Addams Family, Monster Bash and Twilight Zone.
We will be sharing more features for Arcooda Pinball Arcade over the next couple of months, be sure to be following us to keep up to date!
About Arcooda Video Pinball
Arcooda Video Pinball is the world's first full-sized touchscreen video pinball machine. It is made with real pinball parts (flipper coils, shaker motors and more) for an authentic pinball experience, as well as offering advanced features such as interchangeable control panels and compatibility with consoles (Xbox, PlayStation) and PC. With Arcooda Video Pinball, users have the ability to play 1000's of video pinball and arcade games on the one machine.
Arcooda is releasing 2 Video Pinball models in 2017, a home version product with at least 100+ licensed game tables, and a coin operated model with many innovative features yet seen on pinball machines.  If you have any questions, suggestions or looking to work with us, please email us on sales@arcooda.com or call our office on +61 249 689 313
Save
Save