Arcooda's Xtreme Game Wizard on Display in Hong Kong Showroom – Visit Us Today!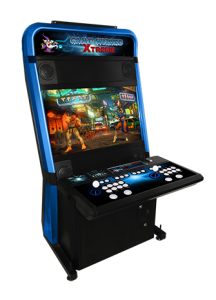 The Xtreme Game Wizard Arcade Machine is now on display in our Hong Kong showroom and customers are welcome to visit to check out one of the most advanced arcade multi platform machines on the market! Come and play at our showroom today!
The Xtreme Game Wizard machine is the first of many products to be released by new manufacturing company, Arcooda, and is part of a bigger ambition to make arcade gaming more accessible and modern through multi platform functionality.
This incredible machine allows players to connect their Xbox 360, Xbox One, PlayStation 3, PlayStation 4, PC tower, and connect arcade motherboards and JAMMA boards all in the one cabinet, and play modern console games using classic arcade controls.
The machine is designed with a number of locations in mind, including home games rooms, man caves, recreational gaming spaces, family rooms, waiting rooms, office spaces, staff rooms, bars, clubs, and any space which an owner, manager, or home operator would use for the purpose of entertainment.
Visitors to our Hong Kong showroom will be able to, not only see the machine, but play and experience the Xtreme machine for themselves. By physically interacting with the machine, customers will gain an intuitive understanding of the how the machine works and what it is designed for.
For customers interested in visiting our Hong Kong showroom to see and play the Xtreme Game Wizard arcade machine for themselves, you can visit us at Flat 17E, Skyline Tower – 14-18 Tong Mi Road, Mongkok. For visitors who would like to arrange a time to be shown the machine, you can contact the showroom on +852 3595 2660 or email sales@arcooda.com.