HIGHWAY ENTERTAINMENT HOSTING ARCOODA EXCLUSIVE PREVIEW EVENT!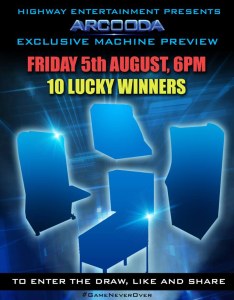 The Arcooda Exclusive Preview Event will be hosted by their Australian distributor, Highway Entertainment, at their Newcastle Office next month. The company will be inviting members of the public and some media to preview selected gaming machines from Arcooda!
Highway Entertainment will be inviting 10 lucky winners to their headquarters in Newcastle to preview Arcooda's exclusive, never-before-seen multi-platform machines! Winners will be selected via the Facebook competition the company is currently running.
The event will take place on August 5th starting at 6pm, with food and drinks provided for our special guests. The Highway Enetertinament staff will present Arcooda's most innovative gaming products, which combine arcade and home gaming to create whole new multi-platform gaming machines. 
At the Arcooda Exclusive Preview Event, staff will also give special guests a brief walk- through on how to set up and play the machines with different consoles and platforms. After that the floor is all yours – play games and share an unprecedented gaming experience!
To enter for a chance to be one of 10 lucky attendees, simply head to Arcooda Facebook and Like the page, then like and share the competition status with your friends! Winners will be announced on July 29th at 4pm, so be quick and don't miss out!