CHECK OUT INKSMITHS TATTOO STUDIO AT CHARLESTOWN, NSW, TO SEE THE XTREME GAME WIZARD IN ACTION!
On behalf of Arcooda, Highway Entertainment has negotiated an agreement with local tattoo studio The Inksmiths, who will be hosting the Xtreme Game Wizard Arcade Machine until the 4th of August!
In return for installing the Xtreme in the studio, The Inksmiths allowed Highway Entertainment in for a photoshoot for the Xtreme's magazine debut in the September issue of Inked X magazine!
The studio features a number of high profile artist from the Newcastle area and a floor to ceiling "Bad Marilyn" mural in the store. The Xtreme Game Wizard machine, currently staying at the studio's Charlestown location, features the popular Street Fighter V (available on PlayStation4) and has become a major hit amongst staff and clients!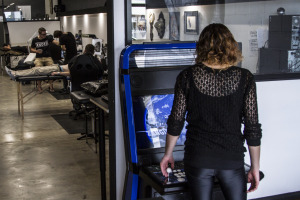 To check out the machine, you can visit the artists at The Inksmiths Tattoo Studio at 222 Pacific Highway, Charlestown, NSW.