Touch Wizard Provides Loads of Gaming Options in Space-Saving Desktop Model!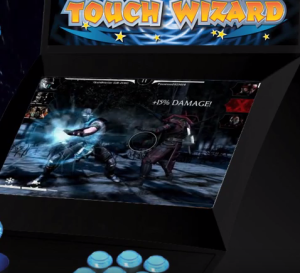 Coming soon to our Arcooda product range is the Touch Wizard machine, a touch screen desktop model arcade machine that is loaded with gaming potential!
We created the Touch Wizard desktop model because at Arcooda we understand that when it comes to big purchase items, like arcade machines, size is almost always a factor – is it going to be too big? Will it fit through the door? Can I move it myself if I rearrange the room?  With this small desktop model, these questions are no longer a concern!
The Touch Wizard is another innovative blend of modern and retro gaming that is the same size as a small computer and can fit almost anywhere in your home or location! Plus, the Touch Wizard is Android compatible and can be enjoyed by players of all ages – just download your favourite apps!
Players can play all their Android games in a fully functioning arcade machine using classic Japanese arcade joystick and push button controls or they can play using the 19inch touch screen!
Play 1000s of free apps available through Android like never before, including family games, adult games (poker, hold 'em texas, slots, etc.), lifestyle games, design games, puzzle games, and more! Not to mention, users can use their various social media platforms on the Touch Wizard including Facebook, Twitter, Instagram, and Pinterest!
The arcade controls also means it is great for playing Android apps that support joystick controls, as well as the 1000s of arcade games available through downloadable apps such as MAME or similar programs, letting you play all the famous classics of the 80s and 90s including Pacman, Donkey Kong, Street Fighter and loads more!
Enjoy the modern convenience of a desktop touch screen device and the retro joy of an arcade machine – all in one machine! The Touch Wizard provides a space-saving solution to having an authentic gaming experience in your own home!
The Touch Wizard desktop arcade machine is a commercial grade, high end machine which is designed to give players top quality gaming in their own homes.