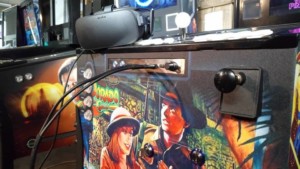 Arcooda's first commercial Video Pinball machine will now support Virtual Reality pinball. Connecting VR is as simple as plugging the HDMI and USB cords from the VR headset into the front of the Arcooda Video Pinball machine.
Experience true VR with existing VR pinball titles such as Zaccaria VR, Pinball FX2 VR, Stern Pinball Arcade VR and Pinball Evolution VR.
Plug in your Oculus Rift, HTC Vive and other VR equipment to experience VR pinball which will include pulling the actual machine plunger to launcher ball, cabinet flipper buttons to control flippers in game play and pushing the cabinet for real nudge effect.
More information and videos of VR game play will be released soon.