Mystic Dragon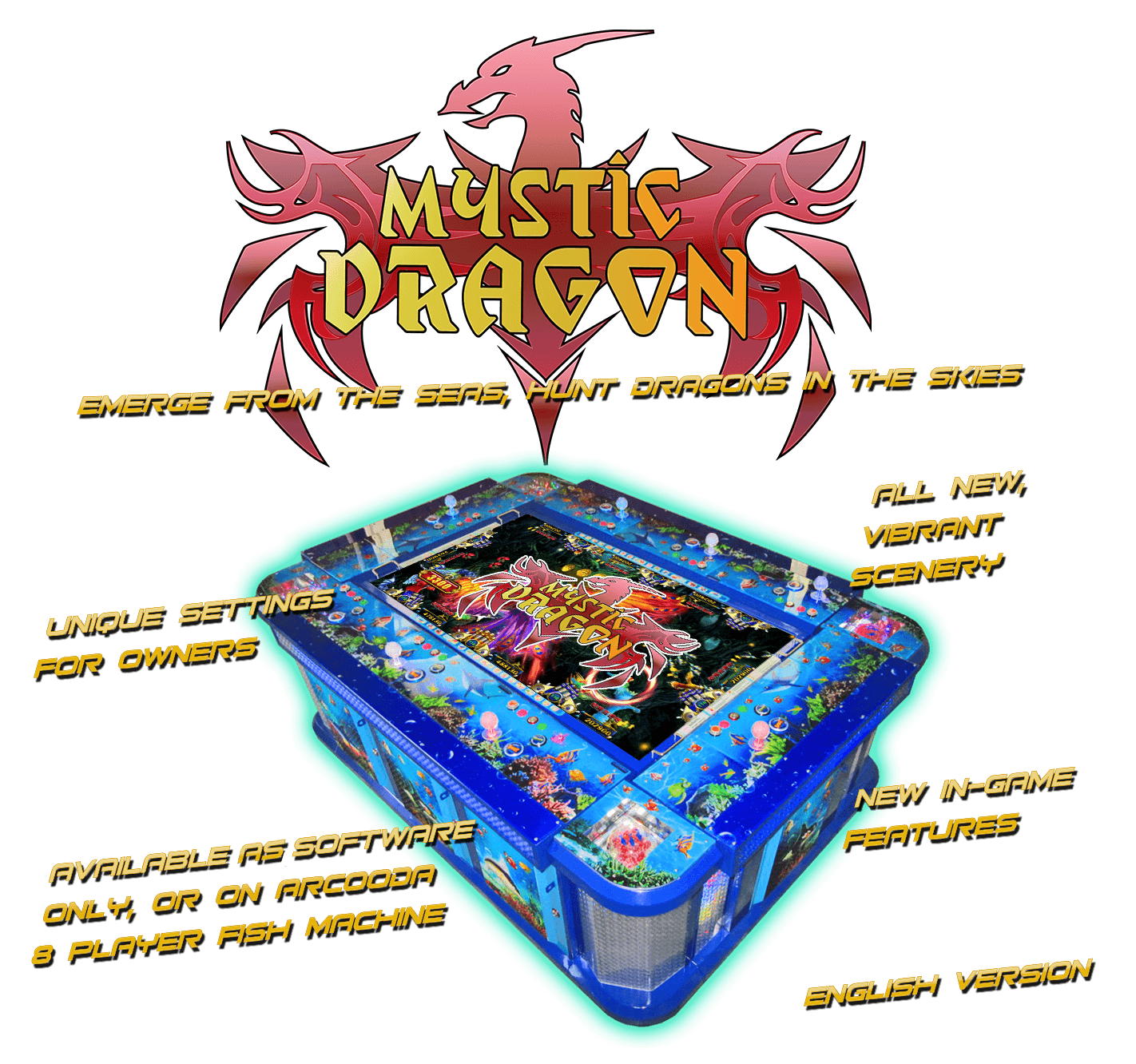 Hunters looking to play a fish game with a difference can now do so with Mystic Dragon.
Mystic Dragon allows players to emerge from the seas and, instead of hunting for ocean creatures, hunt for bugs, birds and dragons in the skies over forests, mountains and seascapes.
Some notable features of Mystic Dragon include: new characters – instead of fish hunt bugs, birds and dragons; new in-game features; all new and vibrant game scenery – look over forests and beaches; new backing soundtrack during gameplay; unique settings for game owners.

Mystic Dragon is available in Chinese Version for Asian market and in English Version for western market.

How to Play
The aim of the game is for players to use their guns to catch as many bugs, birds and dragons as possible within the timeframe of the game. Up to eight hunters can play Mystic Dragon at any one time.
In Mystic Dragon there are 21 characters to catch, all of which are worth different point values. Players increase their scores by the number and value of characters they shoot during games.
The main Mystic Dragon gameplay is layered with features. These are important to use as they give players a higher chance to earn more points and in turn, the potential to earn more winnings.
Features
[/su_row]
A number of features are available to gamers while playing Mystic Dragon including Lightning Bird, Chain Link, Fire Dragon Volume and Tornado.
Super Weapon:
When a player shoots a bird carrying a Super Weapon, it activates the feature. There are two birds that carry super weapons. When a player shoots a Super Weapon bird, that player is granted a special gun that shoots a projectile, like a rocket. The projectile zooms around the screen killing characters in its path. The player that activated the feature earns the points from the characters killed during the Super Weapon feature.

Lightning Bird:
The Lightning Bird feature is activated when a player shoots the icon – a bird carrying a hammer. When activated, this character shoots lightening down and across the screen killing characters flying around. Points from the dead characters are awarded to the player that activated the Lightning Bird feature.
Chain Link:
The Chain Link icon appears circled around a character. When this character is shot, the feature is activated. The encircled character links to other characters. They, too, are encircled until the feature times out. The characters encircled during the feature are killed and the points are awarded to the player that activated the Chain Link feature.
Tornado:
Shooting a character encircled by the Tornado symbol activates a vortex. Characters immediately surrounding the shot Tornado character are sucked into the vortex, earning the player who activated the feature points.
Fire Dragon Volume:
Like the Tornado feature, when a character encircled by the Fire Dragon Volume icon is shot, it creates a vortex and characters are sucked into it. However, the Fire Dragon Volume vortex is stronger, and pulls in larger and more characters. Points for the characters sucked into the vortex are awarded to the player that activated the Fire Dragon Volume feature.
Characters
There are 21 characters in Mystic Dragon, including three 'boss' characters that are worth more points when you shoot them.
The game's four bug characters are worth the lowest amount of points, followed by the 11 kinds of birds and then dragons.
There are five dragon characters for players to hunt, including the Mystic Dragon, and a Queen Bee.
The Mystic Dragon is the ultimate prize, and worth the highest amount of points.
The characters are:
Scarab, Ladybug, Wasp, Butterfly, Sparrow, Parrot, Yellow Bird, Bat, Firebird, Vulture, White Bird, Eagle, Hawk, Peacock, Phoenix, Small Dragon, Red Dragon, Gold Dragon, Queen Bee, Blue Dragon and Mystic Dragon.
Mystic Dragon is available to buy on its own or can be shipped with Arcooda's six or eight-player fish machine.
Arcooda 8 Player Fish Cabinet dimensions: 163 W x 205 D x 98H (cms), 250 kgs
Arcooda 6 Player Fish Cabinet dimensions: 145 W x 194 D x 93 H (cms), 250 kgs
Sea freight (estimated arrival 35-45 days) and air cargo (7-14 days) is available for Arcooda's fish machines.
Configurations
Arcooda fish cabinets are available as:
– Key In/Key Out version machine
– Coin In/Coin Out
– Bill Acceptor/Thermal Printer
– Coin In/Ticket Redemption Out (for FEC and arcade centres)
– PlayPortal Cashless System
Send Inquiry
| | | |
| --- | --- | --- |
| | Please use the form below to send us your inquiry. | |